There's something sobering about talking to Branford Marsalis. Because, as he plays, he speaks clearly, confidently and unimpressed by the many myths and interpretations that are brought to jazz. But there is also something refreshing about it. Because as little as he gets involved in the scoring games of the scene, the more clearly he sharpens the view of what really matters. On the music.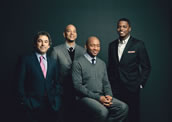 Branford Marsalis (seated in front) with his quartet colleagues Joey Calderazzo (p), Eric Revis (b) and Justin Faulkner (dr), with whom he will be on tour in Germany, Austria and Switzerland in April. Photo: Universal
For example this thing with the journalists. "Someone writes a bad review about me," says Branford Marsalis, "and the next time I meet him, I'll ask him, 'Hey, you okay? How's the family doing? He says, 'Haven't you read my review? 'I mean,' Who cares? How is the family? Let's talk about something important! 'And maybe I'll tell him,' If you don't like my record, you have to write a slap. If you write a bad review because you don't like me, then you are an idiot! It is your reputation that suffers. '' 'It has something of the defensive reflex that musicians use to wall themselves in to protect themselves from offense. But it goes a little further, because the statement directs our gaze back to the author. Whoever writes has a responsibility, for the artists whose work he publicly judges, but also for the scene itself, whose condition he defines a little with each article. Words can influence colleagues in the way they approach content, they can set quality standards for analysis, research, style and humor. But you can also expose your own deficits, be they content, emotional or cognitive in nature.
Because every letter is a balancing act over the ridge of one's own vanity, which one needs to want to express one's opinion at all: on the one hand the ravine of overconfidence, on the other the abyss of misjudgment, stumbling in the headwind of clichés and opinion-making. "It's one of the toughest jobs in the world," Marsalis argues. "You should write about music if you love or hate it. But in America many journalists are obsessed with discovering the next big thing. Sometimes when I read articles from England it sounds similar. They suffer from the same disease: 'My stuff is as good (or better) as your stuff!' When someone in America writes a review about the New York Philharmonic, for example, they will never think of the orchestra expressly with you compare European ensemble. But in articles from Europe I often read the sentence that this band is as good or better than the ones in America. It is bizarre to think in such categories. I think jazz writers should be like jazz musicians. You should be a student of music and really love it. "
It is a high standard that Branford Marsalis formulates, and it presupposes professionalism on the part of both the artists and the authors who report on them. However, the saxophonist and oldest of the successful brothers from New Orleans is also aware that he is sketching an ideal image that reality often has little to oppose. Because by and large, musicians and authors alike have something of Don Quixote in their need to generate meaning: "Nowhere in the world is anyone interested in jazz, except for a few who are enthusiastic about it. [...] I also don't think that the listeners of the 30s, 40s, 50s were more educated and better educated than the people of today. There was just less supply available. That is why jazz was also close to pop music for a while. But don't fool yourself. Small jazz groups were never very popular. Those were the big bands. Take Louis Armstrong, for example. When we look at all the fantastic songs he's played. 'Cornet Chop Suey', 'West End Blues', 'I Got The Right To Sing The Blues' and a lot of other pieces with great trumpet solos, people remember mainly 'Hello Dolly' and 'What A Wonderful' World '. And then he played little or no trumpet. That's the reality, if you allow pop culture to be the determining factor. I'm not doing that because it would be a musical mistake. "
So back to the basics, to the music. Branford Marsalis made a new record. It's called "Four MFs Playin 'Tunes" and is the first with Justin Faulkner ("He's the guy!") From Philadelphia on drums, who has taken over the job of Jeff "Tain" Watts in the saxophonist quartet for three years. Even more than his predecessor, he is one of the commentators on the instrument, who contributes to the pulse of the music in constant exchange with the other participants and works melodically, structurally, and motivating. Faulkner challenges Joey Calderazzo, who in this constellation leaves his romantic passages behind in order to devote himself to dialogue, group conversation, and sometimes duels. For Eric Revis on bass, this is the opportunity to act even more freely without having to leave the form at the same time. The band leader, on the other hand, oscillates between abstraction and melodic reflection, emphasis and control. A piece by Monk, an early standard from the 30s, otherwise its own from a mischievously nostalgic ballad to elegiac expressionism in the Ornette Coleman successor and lots of postbop - "Four MFs Playin 'Tunes" is again very fundamental in the use of the musical Medium, very emphatic in formulating one's own tonal language. Hence another quote from Branford Marsalis as a conclusion: "If you really want to do something, then do it and look for people who you can make happy with it!" A credo that applies to everyone who has anything to do with jazz.
Ralf Dombrowski
Tour: 12.4. Sing, 14.4. Dortmund, April 15/16 Vienna, April 17 Darmstadt, April 18 Cully Jazz Festival, April 19 Basel Jazz Festival, 22.4. Neuhardenberg