Stacks can fall off by themselves
Pitless high-performance loading and stacking system

Pitless high-performance loading and stacking system for flat workpieces
The Herford company Systraplan presents the first system of a new pitless high-performance loading and stacking system with a circumferential suction belt system. In addition to the previous core competencies in material flow, handling and storage technology, the new product is intended to create a further mainstay.
After the prototype was successfully presented at LIGNA 2001, the first production-ready system is about to be delivered.
With the new system concept, processing lines can be loaded or stacks can be formed. The processing of batch images is possible.
Depending on the arrangement of the system, the parts can be picked up either in the longitudinal or in the transverse direction. The small space requirement and the unnecessary pit facilitate retrofitting in existing processing lines.
With the help of the separation, the workpieces are fed to the rotating suction belt system.
A special system interrupts the negative pressure of the suction cups in the delivery area of ​​the belts, so that the parts fall off the belts. The blades of the rotary elevator that remain in a horizontal position take over the workpieces and place them on the lower level of the infeed roller conveyor of the processing line.
In the system designed as a stacking system, the processes take place in reverse order, i.e. the parts are taken over from the outfeed roller conveyor with the help of the rotary elevator, brought to a height of approx.2.20 m and transferred to the rotating suction belt system.
The belt system conveys the workpieces to the side, where the parts then fall in a controlled manner onto the respective lifting platform that is in position.
With the help of an alignment unit and the timing of the lifting platform, an exactly aligned stack is then formed, whereby several parts lying one behind the other can also be formed.
On the lifting stations, images can also be created from parallel and one behind the other parts.
Depending on the customer's wishes, a disposal or supply system for protective panels or pallets can also be added.
After a successful LIGNA 2001, Systraplan will also be represented at CeMAT 2002 in Hanover. With the new pitless high-performance loading and stacking system, an innovation will be shown with which a highlight will be added to the trade fair. CeMAT will take place between April 15th and 20th, 2002 in Hanover.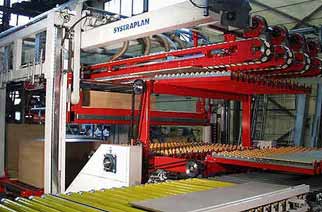 Loading system for a processing line with which stack images with a maximum of 8 parts per layer can also be continuously loaded.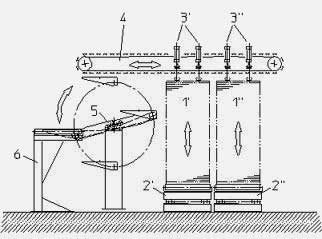 stack
Isolation
Rotary elevator
Lifting platform
Suction belt system
Infeed roller conveyor
Technical specifications:
Output up to 40 cycles / min. according to the part size,
i.e. 80 or 120 cycles / min. for 2 or 3 pictures.
Stacking height: max. 1,800 mm, with normal board thickness.
Possible panel formats:
Length: approx. 250 - 3,600 mm
Width: approx. 150 - 1,200 mm